A question we have answered a few times in the last few months is whether or not, and if so, how easy do Database Activity Monitoring (DAM) tools such as IBM Guardium support ERP platforms such as the Oracle E-Business Suite, PeopleSoft and SAP. The answer is yes; DAM tools can support ERP systems. For example, IBM Guardium has out-of-the-box policies for both the E-Business Suite and SAP – see figures one and two below.
There are many advantages to deploying a DAM solution to protect your ERP platform, the first being additional defense-in-depth for one of your most critical assets. You can read more here ( Integrigy Guide to Auditing and Logging in Oracle E-Business Suite) about Integrigy's recommendations for database security programs. DAM solutions allow for complex reporting as well as 24x7 monitoring and easy relaying of alerts to your SIEM (e.g. Splunk or ArcSight).
Deploying DAM solutions to protect your SAP, PeopleSoft or E-Business Suite is a not-plug-and-play exercise. IBM Guardium's out-of-the-box policies for the E-Business Suite require configuration to be of any value – see figure three below. The out-of-the-box DAM policies are a good starting point and Integrigy rarely sees them implemented as is. Integrigy also highly recommends, if at all possible, to complete a sensitive data discovery project prior to designing your initial DAM policies. Such projects greatly help to define requirements as well as offer opportunities for data clean up.
Overall, to design and implement an initial set of Guardium policies for the E-Business Suite (or any other ERP package) is usually a few weeks of effort depending on your size and complexity.
If you have any questions, please contact us at info@integrigy.com
Figure 1- Seeded Guardium Policies for EBS and SAP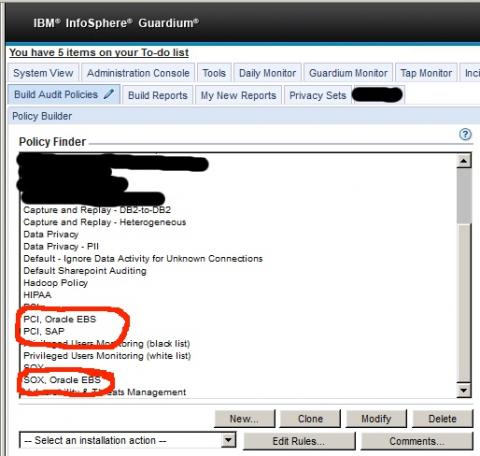 Figure 2- Guardium E-Business Suite PCI Policy
Figure 3- Example of Blank Configuration