This is the fifth posting in a blog series summarizing the new Oracle E-Business Suite 12.2 Mobile and web services functionality and recommendations for securing them.
Physically deploying SOAP-based web services for the Oracle E-Business Suite is more complicated than for REST. SOAP interfaces are best used to support heavy-duty solutions such as Business-to-Business (B2B) interfaces. To deploy SOAP services for the Oracle E-Business Suite, the Oracle SOA Suite must be licensed and configured. Once the SOA Suite is installed and configured, two (2) WebLogic servers will exist. The first WebLogic server is the initial WebLogic server supporting the Oracle E-Business Suite and the second WebLogic Server is the WebLogic server supporting the SOA Suite. Integration between the two WebLogic Servers is done through both through HTTP and the ISG client. The ISG client is installed on the SOA Suite's WebLogic server and uses Oracle's proprietary T3 protocol to do the majority of the heavy lifting for communication with the E-Business Suite.
When a SOAP service is deployed within the Integrated SOA Gateway forms in the Oracle E-Business Suite, the SOAP Web Services Description Language (WDSL) file defining the web service is generated on the second WebLogic Server, the SOA Suite WebLogic Server, not the E-Business Suite's WebLogic server. The interaction with B2B business partners using the web service then occurs between the Oracle SOA Suite and the business partner's servers. Ultimately the Oracle E-Business Suite generates or receives the information, but the Oracle E-Business Suite does not directly communicate with the B2B partners.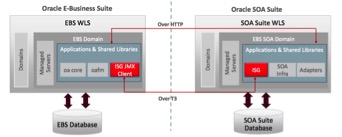 SOAP Needs a Separate SOA Suite WebLogic Server

Only the SOA Suite communicates with B2B clients
If you have any questions, please contact us at info@integrigy.com
-Michael Miller, CISSP-ISSMP, CCSP, CCSK
References