This is the tenth posting in a blog series summarizing the new Oracle E-Business Suite 12.2 Mobile and web services functionality and recommendations for securing them.
Oracle Corporation has been building out Mobile and Smartphone applications for the Oracle E-Business Suite for a number of releases. Before release 12.2.5, this functionality was designed only for deployment through a corporate VPN, not through an Oracle E-Business Suite external node over the Internet (e.g. a server in DMZ).
With release, 12.2.5 external node deployment for Mobile applications is now an option. 12.2.5 bundles Oracle Mobile v4 and uses the E-Business Suite's WebLogic server. Specifically, 12.2.5 deploys the Oracle Mobile v4 REST services through the OAFM WebLogic application. In other words, with 12.2.5, Smartphone applications can now be Internet deployed without a need for a separate WebLogic Server; no need for a SOA Server or a separate WebLogic server.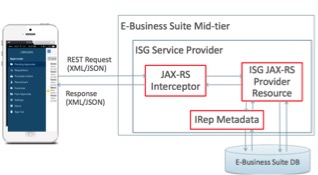 Oracle Mobile Using Native EBS REST
To secure version 12.2.5 Oracle E-Business Suite Mobile applications, Oracle Mobile Security Services (OMSS) is used. Check with your Oracle sales representative if OMSS is separately licensed or not. OMSS provides critical URL shortening as well as white/blacklisting and other functionality specific to deploying Oracle Mobile applications. OMSS must be properly configured and is placed in front of OAFM.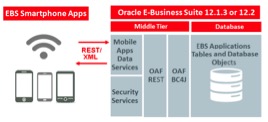 OMSS in-line before OAFM
If you have any questions, please contact us at info@integrigy.com
-Michael Miller, CISSP-ISSMP, CCSP, CCSK
References